CAREYE®
The intelligent exterior rear view mirror
CAREYE® by EYYES
is a digital exterior mirror camera-monitor system based on UNECE regulation R46 and complies with ISO 16505. It is a UNECE R151 blind spot assistant, a front blind spot assistant, lane change assistant and rear view assistant.
The vehicle is equipped with high-resolution digital camera sensors. By combining the image information from several cameras, it is possible to implement comprehensive requirements and functions as well as an active warning for the driver. The system detects moving objects such as pedestrians or cyclists to maintain distances and issue warnings in case of danger.
Functions and features of the CAREYE® exterior mirror
Digital outside mirror camera monitor system
based on UNECE R46 and ISO 16505
Blind spot assistant according to UNECE R151
Front blind spot assistant
Lane change assistant
Rear view assistant
The vehicle will be equipped with high-resolution digital camera sensors to cover all fields of view

.

Cameras with a wide dynamic range, ideal for low light conditions and strong light/shadow changes

.

Large, bright monitors enable a perfect image

.

Fully trained deep learning algorithm
CAMERA

The Wing with two cameras monitors the area next to and to the side behind the vehicle.

TIC-BOX

The central TIC box with integrated AI processes all data from the camera

SIGNALER

The signal transmitter gives acoustic and optical warning signals when danger is detected.

SCREEN

The 16:9 HD monitor impresses with high contrast and shows the fields of view captured by the Wing.
Fields of view examples
The algorithm has been trained using a large number of traffic situations and offers extremely high recognition accuracy compared to classic open-source solutions.
The figure on the right shows the different fields of view in different driving situations. These automatically adapt to the driving situation.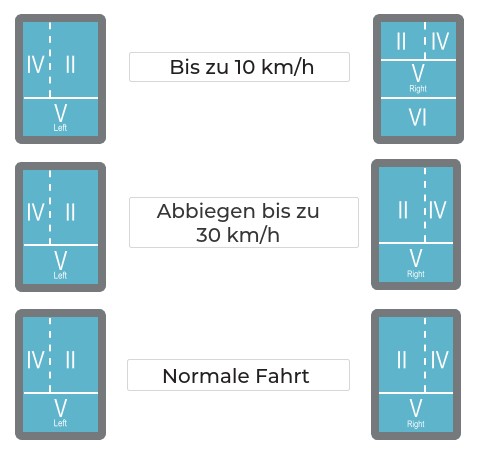 Central power unit with integrated deep learning for processes in real time
Processing video input

.

Time object detection

.

Object classification (pedestrians, cyclists, cars, trucks, buses, …) with high computational power

.

Behavior and prediction of objects

.

Obstacle detection and distance determination

.

Quality and confidence determination
Video output processing for monitor with marking of detected objects using overlay

.

Streaming of object data for driver assistance systems

.
The following standards are possible:
UNECE R46
(Approval of devices for indirect vision and of motor vehicles).
ISO16505:2019
(Ergonomic and performance aspects of camera monitor systems).
UN Regulation No.151
(Blind spot information system for the detection of bicycles).
EN 26262
(Road vehicles – Functional safety)
Unrestricted visibility without blind spot on the right / left side of the vehicle

Customized representations

of the environment

The display is adapted to the respective driving situation

Active representation of potentially dangerous situations

Using the screens to display additional information for the driver

Field of view to the edge of the sidewalk

Better visibility in wet and dark conditions

Central AI control box for all cameras around the vehicle

Energy-saving technology for embedded high-performance computing

With our own processing core - needs only 2-6 watts per camera/video signal to perform all calculations

Deep learning intelligence

Deep learning intelligence at the cutting edge of technology for precise classification of objects

We meet the European standards for vehicle safety ASIL / B if required.

No use of open source software

Disclosure of the object lists
Product and technological advantages
INQUIRY